BBC's Coast to Coast Food Festival in Fife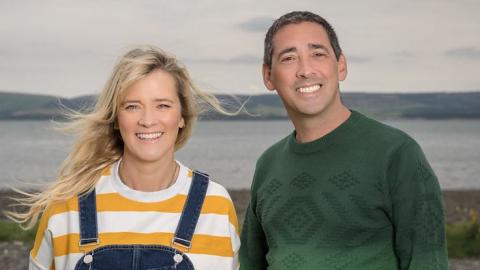 Edith Bowman returns to her roots in Fife, Scotland with Colin Murray and Sean Fletcher
The programme celebrates food, farming and the countryside courtesy of presenters Colin Murray and Edith Bowman along with Countryfile's Sean Fletcher accompanied by familiar faces from chefs to food enthusiasts. Coast to Coast Food Festival is true feast for the senses on BBC Two exploring  dreamy destinations and fabulous food across the UK. In Scotland they got together with farmer, Jim Smith and chef Julie Lin.
Edith Bowman introduces Colin Murray to her home town of Anstruther on a food adventure that takes in the town's famous (and MyCompany Quarterly Reportedly royally popular) fish and chips and discover how artisan bread is being made for the community.
The show is all about tips on getting the best value as Edith and Colin reveal the secrets of farmers and producers, explore food festivals and markets, champion home-grown produce and put the UK's local food festivals on the map.
The programmes delves into the world of internationally diverse cuisine, exploring local food stories, and sampling the sights and sounds of vibrant markets.
Edith Bowman says: "I grew up in a hotel, so food and local produce have always been part of my DNA. I've had such a beautiful time exploring different parts of the UK and celebrating its food and people, not least in my homeland! We've uncovered stories behind some of UK's most loved dishes and products and also celebrated the beautiful way food can connect people from all over the world."
Sean Fletcher comments: "Filming Coast to Coast Food Festival has opened my eyes to the amazing produce we have in the UK, which doesn't have to cost you an arm and a leg. I've been to food festivals and markets right across Wales and England, from Cardiff to Cockermouth, and Leicester to Llangollen learning about local food wherever I go. One of the things that stood out for me is the incredible entrepreneurial spirit of all the food producers I've met along the way, and the pride they have in feeding the nation."
Colin Murray comments: "The series was an absolute joy to film and we had a blast exploring the places and meeting the people behind the award-winning produce. I was in my element and blown away by the variety of the food on offer, from Korean kimchi and Jamaican patties at Mela Festival in Belfast to sailing into Loch Ryan to discover what makes oysters so special ahead of the Stranraer Oyster Festival."
The series is produced by Red Sky Productions with additional content in Scotland by Friel Kean Films and Studio Something.
Image